Today was an absolutely beautiful day in Seattle. The sky was clear and deep blue with the occasional cotton candy cloud floating through but rich with the unusual lighting that fall brings. The trees have slipped beyond colorful to that dark point where the leaves really should be gone but they have refused to let go of the trees. I really wanted to get a picture during the day (for once) but work was absolutely brutal. By the time I got out of work the sun had long given up on me so I was forced to take another "shot in the dark." As I walked out of work I realized that the clear sky had stayed and there was a full moon. I love the way a full moon changes views by lighting things that would normally be dark so I decided it would be a cityscape. Unimaginatively (is that a word?) I drove to one of the most common viewpoints in the city and set up my tripod. Once there I was determined to get a different shot than any of the 30M (at least) other people who have taken pictures there. I felt like things were a little contrived and rushed but then, on the 4th pass (50 shots in) it grabbed me.

Now look at the image, which is a tribute, then continue the long diatribe.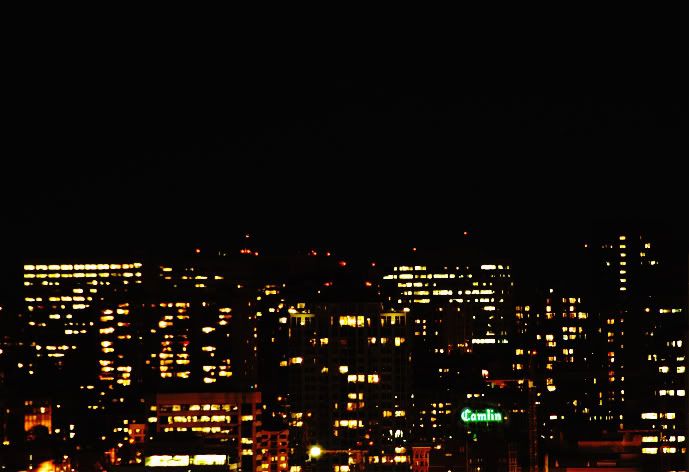 One of my favorite bands of all time was from here in Seattle. Their name was Pretty Girls Make Graves and they disbanded this summer. They had a song from their early days that they rarely played in concert. When we went to concerts (dozens) and they would ask for suggestions we would always shout, "Ghosts In The Radio!" Sometimes they would see it was us and laugh and on many occasions they played the song for us. I'm putting the


This city is quiet, it feels like we own it
But nothing really lasts forever
And we know it

It had started to rain, but we didn't care
Every word that was spoken
Held onto the air
Like a ghosts and floated towards the sky
I pulled my jacket tight,
And the city lit up the night
With the green glow of the Camlin Hotel


of one verse up to help you understand (nothing dirty, it's just a long post already) but it really fit the occasion. I should note that there is rampant development that will, within months, block that green glow of the Camlin Hotel. .... I guess nothing really lasts forever and we know it.